Share this URL: https://blockchainsdgs.peatix.com/
Event is FINISHED
Blockchain x Sustainable Development Goals (SDGs)
The United Nations 2030 Agenda emphasizes the role that innovation plays in support of sustainable development. An important, emerging innovation is blockchain/distributed ledger technology.
Originally, the primary use of blockchain technology was to store and track cryptocurrency transactions (e.g. Bitcoin). However, other uses have emerged in recent years, some of which can be used to advance the implementation of the UN Global Goals for Sustainable Development (SDGs): for example, by reducing food waste (SDG 12), supporting creation of new environmental conservation sites (SDG 13), and providing legal identities and financial services to refugees and the poor (SDG 2).
The goal of this event is to explore how blockchain technology can be used to solve some of the challenges embodied in the 17 SDGs and address both global and Japan-specific social challenges.
PROGRAM
On Saturday October 6th, we invite you to take a deep dive with us to explore how we can use this technology to solve some of our world's most challenging issues:

Doors Open: 14:30
Event Start: 15:00
Event Finish: 18:00
Post-Event Mingle: 18:00 - 19:00


[PART 1]
Opening remarks from the World Food Programme (WFP)

So first of all, what exactly IS the blockchain?

What are the SDGs, and how is blockchain being used to achieve them?
[PART 2]
Japanese Government's applications of blockchain

Global trends and opportunities
[PART 3]
*The speaker program will finish at 18:00, and will be followed by casual networking and drinks (included in ticket) from 18:00 - 19:00.

Mai Fujimoto

– Founder of Kizuna, Bitcoin Donation Platform (also known as Ms. Bitcoin)
Known as Miss Bitcoin on Japanese social media, Mai Fujimoto has been immersed in the crypto space since 2011. She is the founder of Gracone, a consulting company that connects businesses in the blockchain and crypto industry. Mai is also the founder of Kizuna, a certified NPO that allows people make donations via Bitcoin. To this date, it has successfully mentored more than 3,000 underprivileged students through Bitcoin donations. Mai actively advises cryptocurrency exchanges, mining companies, and blockchain-powered projects by providing insights that are ahead of the curve and sharing her network in the industry. She believes that blockchain has huge potential for social impact programs around the globe.
Kohei is an expert of blockchain community management in the social media network space. He is the President of the Tokyo Chapter at Government Blockchain Association, an educational non-profit organization from Washington, D.C., serving local community establishments and engaging with diversified talented memberships. In addition, he has spoken at several conferences on public opinion regarding blockchain deployment. Kohei is also the Co-founder and CMO of Collabogate, a decentralized worldwide blockchain research community. He is enthusiastic about implementing technology at the industry levels to encourage intergovernmental cooperation. Now he is working to link Tokyo and London blockchain communities, with more than 700 members working together thus far.
After completing his MBA at McGill University focusing on blockchain & smart contract strategies in equity financing, Chris joined Blockchain Industries Inc. (BCII) in order to manage the analysis and structuring of the firm's digital asset projects and investments in Asia. Since joining BCII, Chris has evaluated hundreds of projects and has consulted teams from all over the world on their economic modelling and market entry strategies.
Alexis R. Rocamora

- Senior Sustainability Consultant at EY Japan
Alexis is a Senior Consultant in the Climate Change and Sustainability Services (CCaSS) team of EY Japan, where he provides advisory services on environmental issues, specializing in climate change policy. Prior to joining EY, Alexis worked for the Institute for Global Environmental Strategies (IGES), an environmental think tank based in Japan, where he engaged in low-carbon technology projects with developing countries. He also authored multiple reports on carbon pricing and corporate sustainability, and lead the development of databases providing data and analysis on climate change projects, investments and GHG emissions. Before this, he gained various experiences in business consulting and legal counsel in Taiwan. He holds a Bachelor of Laws and a Master of Laws in Environmental Law from Aix-Marseille University.
Eriko Suzuki is Partner at global venture fund Fresco Capital and also Director of Investment Group at Taizo Son's social impact focused organization Mistletoe Inc. Eriko grew up abroad from North America to the Middle East and interned in Kenya at a World Bank affiliated microfinance organization. She then started her career in Investment Banking at Morgan Stanley and UBS. With an interest in the impact of technologies, she went on to establish the Japan office of a Silicon Valley drone startup, and currently, at Fresco and Mistletoe, she combines her passion in finance, tech and social impact, to help support great entrepreneurs, including through investments in blockchain projects. Eriko is also a mother of two children and author of "How we live, will be how we work." (Daiwashobo, 2018) - a guide for empowered women and men who want to create a better future.
OBJECTIVES
Understand the ideas and principles of blockchain and decentralized social contracts.

Learn about prototype blockchain models and how they can address challenges embodied in the SDGs.

Explore how technology can accelerate social impact.
TARGET AUDIENCE
Social impact organizations and individuals who are interested in exploring the potential for blockchain technology to amplify their work.

Inquisitive minds curious to understand the potential benefits and challenges of blockchain technology on society.

All levels: we will be covering the basics of both blockchain and the SDGs.
KEY TAKEAWAYS
Learn

about how blockchain technology works and why some consider it the technology of the future.

Discover

what some leading practitioners are doing to come up with effective solutions to social problems.

Engage

with speakers directly about what their organizations are doing to leverage blockchain to tackle SDGs.

Interact

with a diverse group of people (entrepreneurs, corporate employees, students, nonprofits, etc.).
General Admission: 2,500 JPY (incl. drinks at the post-event mingle from 18:00 - 19:00)
* Tickets are limited and must be bought via our Peatix page in advance. Tickets will not be sold on the door.
FACEBOOK EVENT PAGE
LANGUAGE
VENUE
Edge Of 1-11-3 Jinnan, Shibuya-ku, Tokyo, 150-0041
About Social Innovation Japan
Social Innovation Japan is a community of problem-solvers, thinkers, and doers. We provide a platform for people to engage with and learn from industry leaders who are tackling social and environmental issues, and connect with like-minded people from different backgrounds. We aim to build Japan's largest and most diverse platform of change makers, connecting people with opportunities and resources to tackle real-world problems.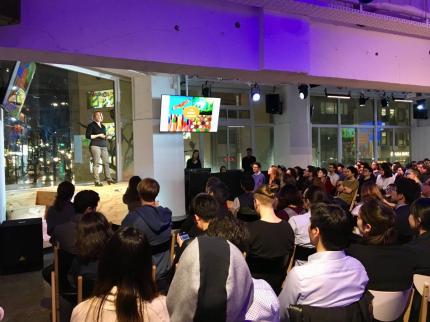 Disclaimer

: Please note that we will be taking photos at this event and we reserve the right to use these in our promotional materials. If you would prefer not to appear in photos/videos, please inform a Social Innovation Japan team member on the day. Social Innovation Japan, the organising team, volunteers and sponsors are not liable for any injuries, deaths, accidents, loss of property or damages incurred during any of our events.
Read more
Updates
The event description was updated. Diff#376248

2018-10-05 07:04:27
More updates
Sat

Oct 6, 2018
3:00 PM
-
6:00 PM
JST
Add to Calendar
Venue
Tickets

General Admission (incl. light networking drinks)

SOLD OUT

¥2,500
Venue Address

1 Chome-11-3 Jinnan, Shibuya

Japan
Organizer